15 days till we head for the hills!
So, what has gone on in the last 5 days?  HMMMMMM……well we had a meeting about the hunt and drank some adult beverages.  I finished the batch of sweetbreads that I plan on taking to the hunt for all to enjoy.  And Weasel and I are working on some modifications to "The Rack".  My list of things to take is growing almost hourly and this year will be a very different one for me, as my hunting trailer is staying home and I have been invited to sleep in "The Dog House".
When a change like that comes along it really makes you think about what you need to be bringing on the hunt.  You see, all my things are loaded in that camping trailer and I have been adding things for this hunt ever since we got back from Conner's bow hunt.  If I forget something for this hunt I will be kicking myself in the rear end the whole time.  But then, someone said once (or twice):  Gun, powder, ball, cap, license…..everything else is a luxury.
Well for old people that list has to be expanded some.  Add to it, insulated underwear, pants, shirt, coat, toilet paper, glasses, hat, radio, phone, cash, beer, food, binoculars, game bag, liver bucket, rope, knife, camera, beaver sharn, kill jug, boobin baby board, measuring tape, marking pen, "Luci" lanterns, gambrel, chain saw, gas, oil, tool box, capot, Kipper snacks, crackers, jerky, hydration pack, extra change of clothes, special surprise gifts, atv, extra gas, tie down straps, shooting cross sticks (what have I forgotten?)…..and then everything else is a luxury.
Whatever happened to the day you just put the rifle over your shoulder and headed out to hunt?  Was there ever such a day?  Maybe back before guns, when the man of the cave just walked out the opening of the cave with nothing but his bare hands to go and get some food.  Suddenly someone invented a spear!  And "Luxury" began.
Look how far we have come, from walking out the cave opening with only our bare hands at a cost of nothing, to absolutely needing all the things I have mentioned including about $1,000 for fuel, because I'll be danged if I'm walking far.  And with anticipation of bagging a 65 pound deer.  Times have changed alot since Nanook….his anticipation included huge beasts in excess of a ton.  Maybe I should set my sights a bit higher.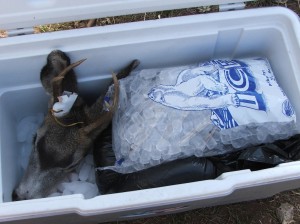 Bears Butt
September 8, 2014