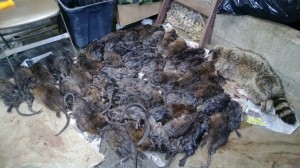 Take the raccoon out of this picture and you can see just about what is waiting for Skinner Man from yesterdays catch!  We had a 37 rat day yesterday!
Today I have a family farm meeting to attend and so the trapping will be delayed until after that is over.  My goal for the day does not include pulling or setting any traps, just checking and a little exploration of the far end of the trellis.  I was told yesterday that a gate at the far end is not locked and hasn't been locked for many years.  There are a lot of locks on it that makes it look like it's locked, but a bolt holds the chain and can be removed easily.
I'm planning on going through that gate and investigate some trapping area on the other side.  Again I was told yesterday by one of Petes boys that the area is thawed out and a lot of water is flowing through and there are a lot of rats up there.
I really like the sounds of that, especially since Arrow Head and Fish Springs are out of the question for trapping.
I have been thinking about those areas lately and for several years those two areas and another I call Hidden Seep, have been very good rat producers.  Two years ago, Hidden Seep didn't produce even one rat and last year it held zero rats and no sign whatsoever.  I didn't set one trap on there.  I still trapped Arrow Head and caught a few rats, but not like the years before.  Bob trapped Fish Springs and said it was the biggest waste of trapping time and energy he had ever seen.  And now, all three areas are void of rats.  Have we done such a good job of catching rats that we have "caught them all out"?  Maybe.  They are sort of isolated areas and migrating rats would have to be pretty good at getting around the predators to infiltrate those areas when they make their annual "run".  So, we just might have cleaned them out.  Pete would like to hear that and I just might include a statement to that effect it in our report to him when the trapping comes to a close.
Yesterday I set 21 traps, but in my trapping experience, they were sets that just didn't have my normal feelings about how good they were.  I don't expect a 50% catch rate from them.
So, what do I expect to catch today?  Yesterday I thought 20, and caught 18 and now with 21 new traps set in "not so good of sets"…….My old trap sets should kick out 10, the new 21 sets 5……15 rats for today and one raccoon in the 7 live traps.
Bears Butt
February 19, 2014
P.M. REPORT
Sorry folks!  Ran out of time to go trap today, the meeting took us until nearly 1:30….add 45 minute drive time to get out there and 2 1/2 hours to check traps…It's just not worth it.
Bears Butt