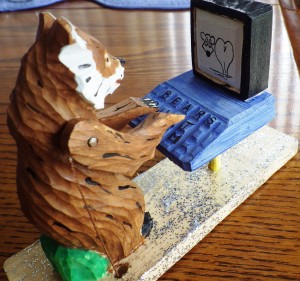 Back home from a great turkey hunting day…notice I did not say turkey killing day.  We saw one hen turkey and she was running away from us up a dirt road while we were driving!  But are we discouraged?  Maybe a little, but the day was wonderful.
A little breezy this morning but not very cold.  We didn't hear any gobbles today and only saw the one bird.  But just being out is what it's all about.  We saw this:
That by itself was worth the trip.  Then to see the hen added icing to the day, but the very best was this, we took a hike into an area I have always wanted to hike into.  Were there turkeys in there?  Probably and we did see some scat that we are saying was turkey.  But that is something I can now cross off my bucket list.  Been there, done that.
And that's not all.  Considering that I'm not in my prime anymore and at 63 I think I held my own with the Weasel on this hike.  From our vehicle, we hiked 2.62 miles in…That doesn't sound like much to you does it?  Toss in the fact that the average incline for this hike was 5.4%…..toss in a few steep parts too…one of which was a 28.7% grade!  And top it all off with a vertical climb of 1,172 feet!
Back home you would think our legs would be rubber and we couldn't walk…HAHAHA!  We laugh at pain!  Even my sore heal came through without even a hint of giving up!  So, 2.62 miles up and 2.62 miles back down…5.24 miles!  And that was after we had hiked in and out again from our morning stand area!  We are feeling good!
We were both carrying large amounts of water on our backs and Weasel was wearing his back pack…along the way we filled it up with trash from other peoples ventures…Weasel even found a button…so we call the trail…Button trail….Butt 'N Weasel on the Button Trail!
Back at the truck we popped open a can of smoked oysters and ate them with cheddar cheese crackers with cheddar cheese filling!  MMMMMM!  A new one for the muzz hunt!
So there you have it folks, even old people can still climb a mountain when they want too!
Bears Butt
May 22, 2013