Oh boy!  Oh boy!  Oh boy!  Today is THE day of days and I know two guys who can really dig into this day…..me and Wapiti Dung!
The National Holiday today is a very special one in my mind and anyone who knows my fetish will understand.
National Flashlight Day!!!!  Shine on big boy…let the lumens light the way!  To go along with that it is also National French Fried Shrimp Day AND National Hamburger Day!  How can one day be so filled with joy?
It is going to be so bright outside today, the sun just might stay home.
OH DEAR!  It is also the end of the Mayan Calendar day…..doom, doom, doom.
So let me add right now that I declare among all the other National Holiday events of the day….I declare it National My-An Day!  Of course it will only be for this one day only…like a midnight madness sale.  Let's hear it folks….just say "my an" over and over and over all day…there was a movie out once with a bunch of seagulls in it saying that word, I'm sure in preparation for this day!  Only in seagull brogue it sounded like "mine, mine, mine"…..
National Flashlight Day!  I thought it would never come.  Better than Christmas for sure and I'm going to shine all my flashlights at the same time.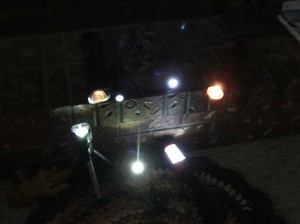 Trust me when I say that this is not all the flashlights I have.  Every vehicle has at least one in the jocky box, the toy has one in the saddle bags and in the tool compartment, my hunting fanny pack as two in it just in case I'm caught out after dark, my work bench in the garage has one hanging in a strategic spot and no doubt I have forgotten where some others are.  I love flashlights….pick me, pick me!
Looking at the picture above you sure can tell which flashlights have the Duracell batteries in them….dull yellow light.  I'll have to change them over to EverReady batteries.
Let's recap what day it is today…National Flashlight Day, National Hamburger Day, National French Fried Shrimp Day, National My-An Day….oh and I almost forgot…It's Fat Ducks Birthday!  Happy Birthday Fat Duck!
Fat Duck! Stomp your feet…. Fat Duck! Stomp your feet… Fat Duck! Stomp your feet!…Fat Duck!  Stomp your feet…Fat Duck!
Fat Duck in Spanish…according to Baby Boy on the Dream Hunt is "Gordo Pato"…I just thought I would throw that in for fun.
Now listen to this idea…Take Fat Duck out to an all you can eat place, have a cake with about 80 flashlights stuck in it and enjoy all you can eat fried shrimp and burgers.  Then after the song…Happy Birthday to you….Gordo Pato….. everyone starts saying "My-an, my-an, my-an" until the management throws you all out.  What a celebration it would be!
Enjoy the day the best you can!
Bears Butt
Dec. 21, 2012