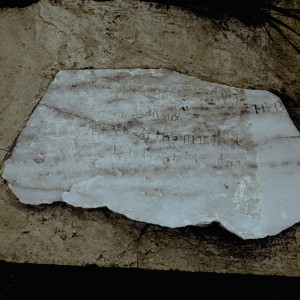 Winemaker and I made a trip over to Hotchkiss Colorado last week, the birthplace of my mother.  It's a quiet little town tucked away in the foothills of the mountains.  It appeared that most people there were "visitors", at least that is what I saw, as there was a county fair going on at the same time as we were visiting.  The local store "City Grocer", honored our Smith's discount card, but they didn't carry Oly beer.  That was OK, as we had plenty with us.
So, we went there hoping to find some of my relatives from Mom's side that were supposed to be buried there in the Riverside Cemetery.
When I think of anything named Riverside, I think there will be a river near by…. Well, this cemetery is up on a high plateau looking over the valley and some of the grave stones we saw were perched right on the edge of the plateau ready to be exposed to the air at the next rain storm and eventually will end up in the valley below.
Well, we looked at almost every one of the headstones in that cemetery and never did find any that we were looking for.  Even after Winemaker had been on Ancestry dot Com and seen pictures someone had taken of the very grave stones we were looking for.  We saw the opening wall of the cemetery, just like the one on Ancestry, so we knew we were in the right place, but no such gravestones were to be found.  We spent 3 or 4 hours wandering around there in hopes of discovering them….but to no avail.
What I did find was a very interesting one.  Someone carved into a rock the words written on the picture above:
"MELVIN LEE GOODWIN,  "Hippy LeRoux", 7-13-48,  I DIDN'T SHOOT THE SHERIFF, BUT I DID SHOOT HIS DOG"
Cemeteries are interesting places to visit.
Bears Butt
August 12, 2015