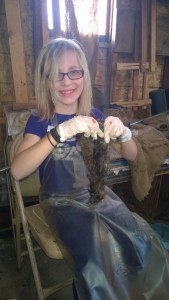 My Granddaughters are really quite entertaining.  Yesterday while just beginning to take care of the catch of the day, in walked in Kenzie and Addie, both with a desire to help with the skinning job.  OK!  Let's do this!  Kenzie, as we have noted previously has had her hands in the dirty work and did very well at skinning a couple of muskrats and so it was just a matter of getting her dressing in her skinning outfit.  We have to protect the kids from getting anything on their clothes or hands.  So, we dress them well with rubber pants, aprons, gloves and whatever else we need to take care of this.  The one thing we never want to have happen is for them to get cut in the process.  Knife safety is number one.  Secondly, no blood or other stuff is to get on any clothing.  For a mother to come unglued about them skinning rats would not be a pretty sight.
So, back to the scene.  In they walk with the confidence and desire of true sportswomen!  We want to help!
When they got the "OK", Addie just had to go home and get her own knife!  While she was gone we got Kenzie dressed up with rubber pants to cover her legs, an apron to cover her upper body and rubber gloves for her hands and wrists.  She grabbed a rat and a knife and began without much hesitation.  I looked down at her shoes and because they looked like they could be brand new, I decided she needed something over them.  She agreed.  Looking around the shed, I grabbed the only thing that looked like it might do the trick.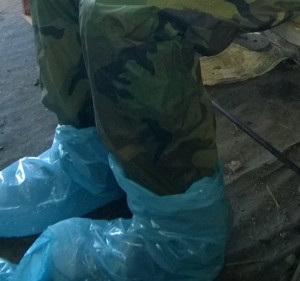 Perfect!
And now you are probably asking just what in the heck are those blue things?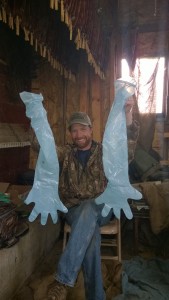 Well, at least they worked.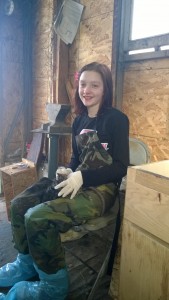 Addie arrived about that time and showed me her knife.  A really nice knife, but it is the kind used in the woods as an all purpose knife and not a good one for a beginning skinner.  So she put that one away and I gave her another one.
In the shed we have a limited supply of clothing coverings for young skinners and I had to make do to cover Addie adequately.  She donned a rubber apron which more than covered her tiny frame and then I put a burlap bag over her shoes.  Add the rubber gloves and she was ready to go to work.  I told her right at the beginning that if at any time she felt like her stomach couldn't handle the job, it was ok to put the rat down and leave the room.  She said she would and then began the task.
I instructed her on every cut and move and she did fine all the way through the process.  Never grimacing at a torn belly or anything.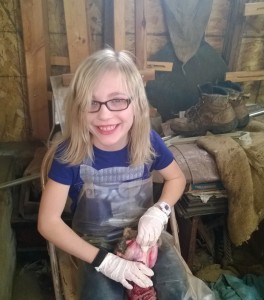 And as the fur came off the body of the rat, it wasn't long until the job was done!  She did very well for her first ever skinning job…nice ears, nice eyes, nose and whiskers….all in tact!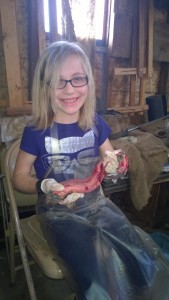 Now let's turn it fur side out and put it on the drying rack!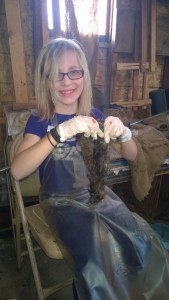 I suppose some folks would consider me a terrible person for allowing these young girls to skin muskrats.  But the way I look at it, they can never in their lifetimes say they have never skinned a muskrat and among their fellow peers they are probably the only ones to have even had the opportunity, yet alone tackled the job.  I look at it as a very good life lesson and it sure as heck beats playing on a Nintendo or Nook.  Besides, they both earned 50 cents for each rat they skinned.  Kenzie skinned two while Addie was learning the job.
Good job girls!  May there be many more!
Bears Butt
March 8, 2015