With the coming of the Muzz deer hunt comes a whole lot of reminiscing and none brings such great memories than "The Rack".
So, what is "The Rack"?  Well, a whole lot of years ago, Weasel brought up his truck and with the truck came some road hunting.  And for anyone who has ever ridden in the back of a pickup up a winding, steep, rut filled mountain road you know exactly how tough it is to hold on to your rifle, your drink and keep your butt inside the truck, let alone try and see a deer or two out in the brush.  So, we modified the truck and put up a quakie "rack" on it.  Lashed the branches down as best as we could and called it "The Rack".  We rode around all week in that rickity thing and every bump caused it to lean to one side or the other until by the end of the hunt the smarter of us decided it was safer to walk than ride.
Well, the idea stuck and by the time the next season came along I had found an old discarded set of metal poles in the "hole" and salvaged them.  It didn't take long to construct a metal pole "rack" for the back of the truck.  Add to it some "hangers" for the guys to hang possibles bags and canteens and suddenly we had a pretty good little "rack" on the truck that was sturdy and relatively safe for the riders.  All were happy for awhile.  You can stand up in the back of the truck, lean against the rack without fear of falling out, see very well in all directions and it is just a pleasure to ride back there.  Except…………there are always exceptions.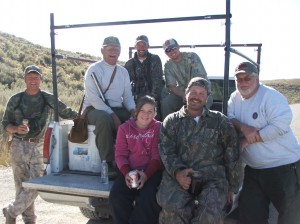 Suddenly, the city boys and girls decided it wasn't very warm riding in the rack.  Put more clothing on…we said.  But the rack is cold, the metal holds the cold longer than a cooler can hold ice….they said…wear gloves we said…but…but….but…and the list goes on and on.  We (Weasel and I) decided that "The Rack" was a good thing and the more comforts we have inside the cab of the truck, the more we should share with the occupants of the rack in the back.  Here there are some limits however.  We have no way to push hot air back to them and so they will have to continue to wear warm clothing, coats, hats, mittens and such.  But we could make them a bit more comfortable by adding some insulation to the pipes that make up the rack itself.  We asked our friend Gunner to provide the necessary insulation….but that didn't happen….so I went out on the limb with my budget and purchased $3.42 worth of pipe insulation…..I know…..my budget is straining, but I can make the sacrifice for my friends…
Not only that, but we knew that our friends in the back also needed a way to secure their rifles so they could hold on in with both hands in cases of extreme cold or steepness of hill, without fear of their weapons falling over or dropping out of the back of the rack.  Again, I looked over my budget and decided the bank could make a small loan in this endeavor if needed.  Again a trip to the store to purchase necessary supplies to build such a contraption to hold 4 guns securely….another hit of $.43 for bolts.  So, my friends, you see, I have invested nearly $4 to provide you with comforts never before had in the rack.  I am a nice guy.
But you haven't seen those comforts yet.  Here is a sneak peek: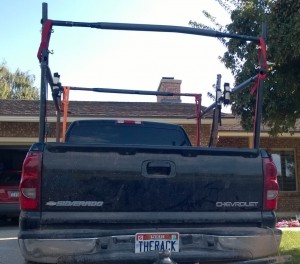 You can see it appears nobody is holding the rifle on the right side.  You can also see the pipe insulation on the rails.  But what does it look like with people on board?  How's this: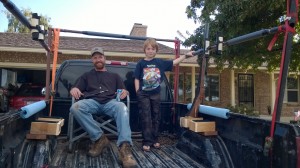 OH YA!  That is comfort in it's biggest sense, however you will not be allowed to sit on a chair like Weasel is.  You will have to stand, or at best, sit on a cooler.  And be assured your rifle will be protected from everything except the weather…that is still a problem for you, you might want to invest in a plastic bag or something.  We can't do it all for you, at least not all at once.
Notice also, that not only will your rifle barrel fit snugly in the holder, but in case of very bumpy roads or if you are just plain paranoid about your rifle falling out, you can "buckle up"!  We try to think of everything for our guests comfort.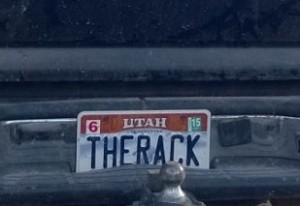 I can hardly wait!
Bears Butt
September 10, 2014