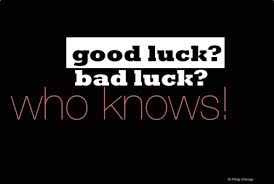 A mix of things happened today.
First off I had a long day planned for me at the VA Hospital Complex in Salt Lake City for Agent Orange related testing.  I hate driving into SLC and today proved once again how bad it really is.  About Lagoon, I passed a truck full of gravel but before I got past him, BLAM!  Big rock right in the middle of the windshield!  Well, there takes out another part of a day for windshield replacement and also a chunk of change out of my deductible pocket.  I'd call that "Bad Luck".
Well I made it to the VA place with lots of time and found a parking spot right up on the front line.  They told me to get there two hours early to get blood work/Xray and EKG done prior to my real appointment for a physical.  I call that "Good Luck".
When I finally found where my blood would be drawn there was a short waiting line and the "waiters" were friendly and we had a great conversation.  Sometimes the "waiters" are ornery and bitchy…not today..Good Luck.
The lady who drew my blood didn't seem to want to stop, she took like 6 viles and left my arm feeling like I was there to give a pint…Bad luck.
Then to my surprise, they told me I had to pee in a bottle….Why?  I asked and the guy asked me where I was going to work?…I told him I was there for a physical for Agent Orange related stuff…he said…O!  I peed in the bottle…Good luck.
Then it was off to another part of the complex for my X ray.  I had to ask directions several times in several hallways but finally ended up at the X ray place.  The behind the counter liked my "bears butt" shirt…Good Luck.
The X ray technician was very friendly and we made several jokes about different things.  He took X rays of my chest, from the back and from the side…Good Luck.
Then down another hallway, close to the X Ray place to where they were going to do my EKG.  I had never had an EKG before and so I was very concerned about it being a procedure that would cause me not to be able to drive home.  I had no idea.  I signed in at the desk and sat in a chair.  There was another guy there and we struck up a conversation.  He was cordial enough but very opinionated and did a lot of bad-mouthing the VA hospital for incompetence.  I have not seen any of that in my two visits and told him as much…he said I was lucky….I count that as Good Luck.
In the room where the nurse (doctor?) was that did the EKG, she had me take off my shirt and lay on a board covered with a sheet and a piece of white paper and then she stuck round or square (not sure cuz I only got a glimps of them) around my stomach and chest.  Then she hooked up all these wires, she said there were 10 of them. I take her word for it because I was more interested in her adornments (body parts).  Then she said to relax and think of pleasant things.  I told her that a man who has just been hooked up by such a pretty woman should have a few minutes to relax before the test.  She told me there was no time.  I have no idea what she did next, but soon she was saying to get up and put my shirt back on and please take the EKG graph with me to my appointment.  She was cute.  Good luck/Bad luck.
Well, now I was done with the pre-stuff and my appointment was just 45 minutes away.  I had to once again ask where this building was that I was to go to and the nice volunteer information lady pointed me in the right direction.  I walked and it was a pleasant walk even though it was quite a ways.  I arrived a half hour before my scheduled appointment and the desk guy checked all my paperwork and then called for the male nurse to come and take me away.  He wasn't nearly as good looking as the last Nurse (doctor?) I had seen, but he was friendly and took my blood pressure, temperature and heart rate.  Good luck.
I waited in a hallway for about 15 minutes and soon the desk clerk came over and said the person ahead of me for his appointment was stuck in the "Blue Room" and so they were moving me ahead…Good luck.  Actually, they didn't have to tell me anything about 'the other guy', I wouldn't have known anyway….just move me along!
So, now I'm sitting in a Doctors examination room.  He is a doctor from India and hard for me to understand but we finally figured out what was going on as he asked me questions and made comments about my medical past, personal stuff, preferences about different things, old surgeries and general doctor related things.  As I was sitting there he was constantly looking at his computer and moving the mouse around and generally acting like he was playing Candy Crush, all the while asking me questions and responding with "Good", or "That's nice".  My first indication that he was actually looking at my medical records was when he said (asked), "You were in Viet Nam in 1971-1972 correct"?  I said, "No, 1969 to 1970".  He said "Good, You passed that one.  I was just checking to see that you were telling me the truth or even listening to me".  Good luck (not really as I was telling him the truth and listening).
Before we went to the next step of the process…the part I hate with the finger wave and all…He said the results of my blood, urine and X rays had been inputted into the computer.  He read off my results:  A slight showing of emphysema in my lungs from my years of smoking…Nothing to worry about, he said.  No problems with liver, thyroid, prostrate or anything else.  My bad cholesterol was .3 above where it should be…another no worry call.  Heart beat normal, blood pressure good.  Good luck.
So after about 30 minutes of questions and answers he had me strip down and get to the "dirty work" of the physical.  When all that was done, he told me "You go and get out of here!  You are a healthy man!  And a happy man"!  And you know what else…no finger wave!  VERY GOOD LUCK!
So here I am one very Lucky Guy!  No health problems that showed up in all that testing.  I managed to get to SLC with only a broken windshield and got very good news, so my trip home deserved a special stop…In and Out Burger in Centerville where I order up a number 3 and drank 7-up with it!  YES!  Good Luck!
On my way home I had to stop at Smith And Edwards to trade vehicles with Winemaker.  I sat with her while she ate her lunch and told her about my exam….not the part about the good looking nurse tho.  She was happy about the results.  Then I headed for home.  Still had to get with Bob and go over the fur sale results and split up the money and still had to go and check my beaver traps.
Got home to relieve MaPa's from his locked up state….he only had one accident in the house and I cleaned it up easily.  Good luck.
Met with Bob, we agreed on everything and split the money fairly…Good Luck…(Thanks for the help Brek and Weasel).
And then headed for the field to check the beaver traps.  You know life is really good when you have all your faculties, can see, hear, feel, breath….you know, all the good stuff.  That is the way I was feeling as I entered into the farm today.  Nothing pressing except checking the traps and hopefully having Mr. Beaver caught up solid.  There was no activity of a beaver anywhere.  My traps were empty, except for the last 3…they were gone!  Bad luck!
I put my hip boots on and went to where the traps were set….nothing….no traps.  Not a lot of torn up looking property around there either.  Unusual for an animal to be caught in a trap and then get away with 3 traps all hooked together and not be anywhere close by.  These 3 traps were all wired together at the trap rings and all were securely wired to a 2 inch tree root that protruded from the bank of the creek.  When I wrapped the wire there I thought I might have an issue should a beaver get caught, he might figure out that the traps were tied there and chew off the root, but no other animal should do that.  HMMMMMM.  Bad luck.
I looked up the creek, I looked down the creek, I looked out into the swamp to the North, I looked out into the pasture to the South…nothing!  Bad luck.
I went back to the place where the traps had been set and examined the point of where I had wired them to the root.  The root was clearly broken and looked like it had been chewed by an animal, but in my mind, NO animal is going to know that at that exact spot if they chewed through it they would get away from there, even though they have 3 traps to deal with, probably one on a foot and the other two dragging behind.  If a wild animal is caught he is going to try and get away.  He will pull to the end of the chain, tear up the surrounding area and eventually exhaust himself and either drown, die of over stressing or lay in the grass and wait.  What I saw was a very suspicious.  I suspect foul play here.  Bad luck.
So, with that, I returned to my vehicle and proceeded to take off my boots and I noticed the drivers side rear tire doesn't have much treat showing…Bad luck!  But hey!  I have a totally unused spare tire that has NEVER been off the vehicle!  Good Luck!  I'll change it out when I get home.
I pull into the garage and go right to work getting ready to replace the badly worn tire with the brand new tire that is under the cover on the back of the rig…been there since 1999.  The old tire off, the new tire on…life is good!  Good luck.  Then I want to put the old worn out tire on as a spare and put the cover over it.  The cover will not fit on this tire!  What gives?!  I try and try to get the spare tire cover to fit over the tire and it just will NOT fit.  In my frustration I check the size of the tire…P265 75 R 16…..I check the new tire I just put on the truck…P245 75 R 16!  Damn!  Different sizes!  Bad luck!
Good luck/Bad luck kind of day!
Bears Butt
June 11, 2014