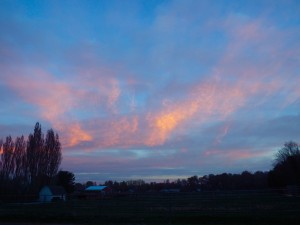 I took this picture the other morning and thought it worth while sharing on here…just because.  It was a beautiful "moment" that morning and Winemaker said I was going to be too late to get the picture….I'm glad I didn't listen to her and not grab the camera.  It was gone as quickly as it appeared.  It looks sort of like a dog playing alongside someone doing a backstroke in a pool…my wild imagination.
Another wild thing is my computer.  After just a little over a week, I have gotten accustomed to it so much I'm not sure I could go back to the old Windows type.  It is "instant on" when I hit a key.  It remembers where I was when I was on it last and goes right to the spot.  It demands little attention and never asks if I really mean I hit a key, except delete…it does ask me about that one.  It is very forgiving when I hit the wrong key on the keyboard, mostly because it doesn't seem to have all the same keys the old keyboard has.  The keyboard is smaller too and it works just fine for my smaller than normal hands and fingers.
I came with a photo program already to go, just upload a picture and go to town fixing it if you want…all the saves and renames and things have had to be learned but the learning curve was short.  I have used the office programs quite a bit updating the records for the farm and drafting letters and spreadsheets for the trapping year and everything went better than I expected.
Am I happy with it?  ABSOLUTELY!  And if anyone out there is looking to upgrade…and I mean UPGRADE from your old Windows based unit to a Apple type, I highly recommend an iMac computer.  Yes more money, but a lot less headaches and I'm certain there are tons of things going on in the background that I don't have a clue are going on.
Definitely "Bears Butt Approved"!
Bears Butt
March 23, 3014