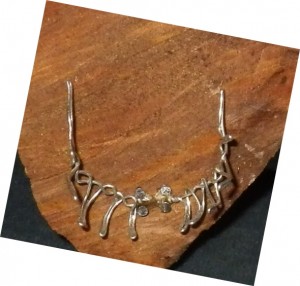 A much better workout this morning.  Sweating profusely at minute 14 and then later I realized I was getting a good deal when the program switched from a speed of 5.5 mph at incline 5%, to a speed of 4 mph and increased to incline 10%…It took 10 seconds for it to climb that 5%….I win!  Only had to do 4 mph at incline 10% for 50 seconds instead of 60!
Monticello weather for today:
Lots of sunshine today.  High 58, low 35, light breezes 5 to 10…almost sounds like it has for the past week.  BUT…….
Continuing special weather statement:  Strong winds Monday…followed by a potential winter storm for portions of the area.  A developing area of low pressure will dive south along the west coast of the U.S. Sunday night and Monday.   Then the system will turn East across the area bringing windy conditions.  As the storm moves closer the winds will give way to an increasing chance for rain and snow by Tuesday afternoon.  Sow levels are expected to remain above mountain pass levels early on, but will quickly drop to the valley floors by Wednesday morning as much colder air filters through the region….Temps on Wednesday may be running 10 to 20 degrees below normal in many areas…..
So what did you do yesterday?
Tracker, Wapiti, Bones, Ericka and I took some time to fix up Trackers dining fly to include a really nice area to put the cooking stuff for the hunt.  Tracker had a really old, but nice World War II Army tarp and he wanted to incorporate it with his dining fly and he had an idea as to how to do it.
We started at 9 a.m. and didn't get it finished until about 3 p.m., a long day, but the time really flew by fast.
Of course a tarp as old as this one had a few tear issues here and there and we had to make do with the largest part we had to work with.  As it turned out, we didn't have to cut it at all and still ended up with the largest part over top of where we think we will be putting our cooking stoves and tables and there are no holes over head!  Something I didn't think we would have when we started this project.  I just knew we would be sewing some patches somewhere.
In the past, we would set up the dining fly and then put up two EZ-up canopies to one side.  This worked very well, but the amount of space we had to work under was quickly consumed by the stoves and tables and left a lot to be desired in the ambiance field.  We actually would have been better off if the EZ-ups were set out by themselves and away from the main dining fly.  But we did what we did and it worked just fine.
By utilizing Trackers idea, we will now have an area about 10 ft. X 14 ft. of nothing but dedicated cooking area and all of the area under the dining fly canopy will be available for sitting and talking around the fire!  A wonderful addition!
This picture shows it all, but the newly added tarp is in the shadow somewhat.  It's on the right side and you can see the green tarp coming out from under the white tarp.  Tracker is going to pick up four 7 1/2 foot lodge poles and so when we get to camp the cinder blocks you see in this picture will not be there.  We used them to get the height we needed.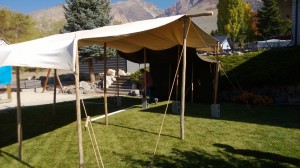 We took it all down in about 10 minutes and put things away very organized so that to put it up when we get to the Abajo mountains we should only need an hour or less.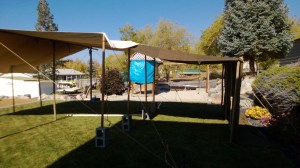 It's funny how something as simple as a dining fly in the middle of camp seems to just "make" the camp!  For sure we will probably be the only camp on the mountain with one.
Speaking of camp and hunting, there will be 13 other hunters on the mountain and I hope we get to meet them all and I hope again that each one of them bags the trophy of a lifetime!
12 Days!
Bears Butt
Oct. 26, 2013