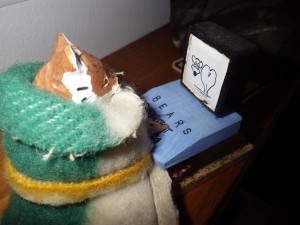 Very cool morning!  Frost on the pumpkin for sure! And that is for Willard!  How about Monticello?
Sunny today, High expected to be 47 with winds WNW (that's West North West), 5 to 10 mph…pretty nice day ahead!
I added 10 more situps to the routine this morning.  The first 10 were pretty easy and so I decided what the heck!  And did 10 more.  Ya, they were a bit shaky toward the end, but I got em dun!
More map study yesterday of the elk area.  I found a couple small ponds too..of course right now they might not have any water in them, but at least I know where they are and if I don't have my elk down before then, I'll make it over to have a look at them.
Both are near one another and both at the heads of draws with very tall trees around them.  They look like perfect elk sanctuaries quite a ways away from the nearest road or atv trails and tucked away where most people would not care to look.  I'll mark them on my gps today.
Who's thinking about elk anyway?
22 days and counting!
Bears Butt
Oct. 16, 2013