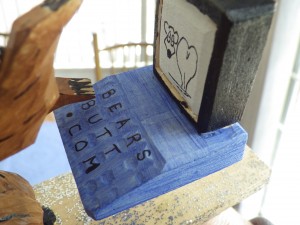 It might be the heat (101 degrees) but it's probably something else plus the heat, but things have been really "not cool" this afternoon.
Sherry is trying to get her 4th of July stuff done because she is running out of time very quickly…AND…as things usually go, problems with her printer just happened to occur.  For her project she needs her printer very badly.
Yesterday we went out and spend nearly $100 on ink to make sure she would get it all done..today…it won't print anything!  Well, almost nothing, she was able to print pictures from her pictures files, but nothing else.
Top off her crammed time schedule with a viewing of one of her relatives this evening and having the kids over for a couple of days/nights and the frustration level rises even more and quicker!
To try and help, I attacked the printer problem just after getting the kids dog out of the kennel.  Two hours later and almost half the new ink the printer is back on line.
An additional "irritant" was when I called the HP 24/7 hot line for all your HP products help….the hardly understandable voice on the other end of the hot line asked what my problem was and when I told him the printer would not print nor would it copy…his answer…call a local technician!  AAAHHHHHHHHHHH and pull out some hair….
It's now time to get ready to go to the viewing and Ang has taken the kids to the ball game at the upper park (Thanks Ang).  Each kid armed with enough funding to buy a snow cone!
When we get back from the viewing I'll plop some chicken thighs on the barby and slug down a few brews!  Our game plan is to have the kids sleep in the coach tonight…that will make them seem like they are sleeping outside or camping.  They will have everything they need out there except the air conditioning…if it's too hot by bedtime they will sleep down stairs.
That's the GAME PLAN!
Bears Butt
June 27, 2013