OK!  Before I head off to the lake I have one last request of each of you!  Check out this photo of this cute little girl fisherperson!  How can you possibly not love her?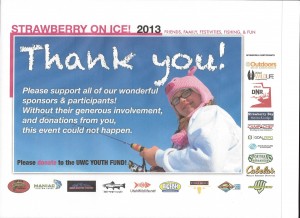 And now read what it says.
The UWC is taking donations for their Youth Fund!  This includes the Spring Turkey Hunt as well as this Ice Fishing event.  Please check them out on Facebook and donate a few dollars to their cause!
Thanks to all!
I'm out of here!
Bears Butt
Jan. 25, 2013