It grieves me deeply to announce the passing of Cindy Celeya "Barefoot" , the wife of Chris "Dancing Ramrod".  Her memory will live on forever.
Viewing scheduled for Sunday, Feb. 5, and funeral Feb. 6.  That is all I know at this time.
Bears Butt
Feb. 2, 2012
No Grimace went right out, and with her in mind, he carved her a special bear and tomahawk.  She loved throwing the hawk at the rendezvous and usually won the womens event.
She will be greatly missed at the rendezvous.
Winemaker had Joyce Pritchard, a local florist put a special planter together for the family using No Grimace's Bear and Tomahawk.  Here are a couple pictures of it.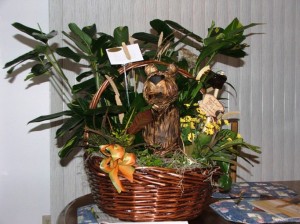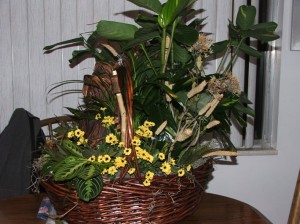 We will make sure it gets to the family at the viewing.