I was involved in a good discussion yesterday and the topic was about the size of our hunting camp and how big it has gotten.  How some have decided to not go hunting because of it.  How it used to be a really fun time when it was a much, much smaller sized camp, and everyone of us would ride together in one vehicle etc.  All of the points brought up were good ones and every one had their opinions of today's camp size verses long ago's camp size.
These are my thoughts on the subject.
Back in the days when I was allowed to tag along and attend the annual hunting event that happened the closest Saturday to October 20th each year, it was always "our family" who was camped.  Of course Dad was always there, and when I was first allowed to go, at the age of 10, Mom would be there and I suppose she was the "baby sitter" for me, and later for my younger brother when he turned 10.  I was allowed to go and camp, but not go out in the field with the guys with the guns.  That did not happen until I was 12 and old enough to know things about being quiet and keeping up with the adults and helping in a big way with camp chores, setting camp up and helping to break camp when the hunt was over.
Those were some great times!  Dad, Mom, all my brothers (at least those who were not in the military at the time), brother in law, Roy.  Yes, those were the "Good Old Days"!  We had a great time.  Laughed, told jokes, played some cards and those old enough even had a few beers and maybe even a whiskey or two.  Fun was had by all.  AND occasionally they would even bag a deer or two.  Back then they could shoot bucks or does and dad always said a doe was better tasting than a stinking old buck.  But he sure would shoot at the buck if both of the sexes were running past.
Suddenly I found myself 12 years old!  Wow, how fast time goes by.  My brother Jack has found himself girlfriend and they have married!  So has my oldest brother!  They can't go hunting without their spouses…and so, the camp grew by two more people.  Special accommodations made for additional things to take to camp and setup.  And of course there are some friends of the family members who would also like to tag along with us.  All were welcomed, and we still had a great time and even bagged a deer or two.
Then my brothers with their new spouses, had babies of their own, and that disrupted the ladies from going to deer camp.  They had to stay home with the little ones, as it was the man's duty to go to deer camp every year and try to fill the freezer with good old venison.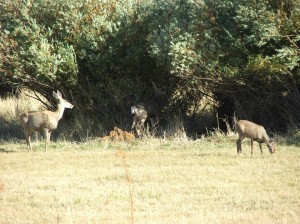 Now let's skip forward to after my military time.
Back home and the tradition of hunting has not faded.  Memories of the past years hunts continually running through my head.  My year begins and ends with the deer hunting season.  Fall is a wonderful transition from the heat of the summer to the cold of winter.  I can sense the hunt for weeks before it actually gets here.  Dustings of early snows that will long be melted before the hunt begins are additional reminders of what lies ahead for the hunt and it all begs to be drawn into the soul of the hunter and prepare him for the upcoming event.
But, there is something that has changed about the camp since I last was here.  Dad is surely there.  Mom is not.  She has no desire to go and would rather stay at home and prepare a good meal for the returning hunters and her always lovely apple dumpings for desert!  MMMMM.  Ok, mom stay at home and we will bring back some hearts and liver and a freezer full of meat!  The camp now includes the brothers (5), brother in law, Roy, and his son (who just turned 13), the best friend of my younger brother (who not only went to school with him, but also enlisted in the Army Airborne with him), AND two sons (who are now 11 and 12 years old) of one of my brothers.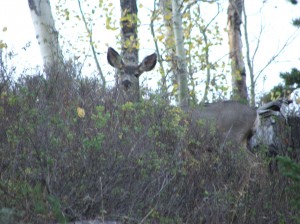 Bigger camp, more stuff to pack, more tents, campers and all of the other conveniences necessary to help our stay in the mountains such a pleasure.  And we had a great time making jokes, laughing and having a wonderful time.  All the while sacrificing ourselves to the ever daunting task of providing meat for the family tables.  And occasionally one or more of us would bag a deer.
As the years continued to go by at an alarming rate, I too married and had two sons.  All of us found ourselves married and with families.  Our young brides wanted to attend the deer camp they had heard so many wonderful stories of.  And until they had children they came and joined in the hunting fun and laughed and joked right along with the rest.  It was fun!  And occasionally someone would bag a deer.
More gear had to be packed.  Additional campers, trailers, tents, trucks and added expenses had to be accounted for to make our stay more comfortable.  And we added those things without a thought because it was a fact that our camp had grown.  As the older ones decided they either had health issues that would prevent them from going on the hunt, or they passed on, their voids at the camp were noticed and they were missed very much, but we were adding more people to the camp than were dropping off the other end.  And still, the hunting season continued to begin and end my year.
Much later in my life, my children attained the age where they were allowed to go to camp.  Add two more.  And then my younger brothers son got to the age as well.  Add one more.  Suddenly, the two sons from my middle aged brother had children who reached that wonderful age and could attend as well.  Add more!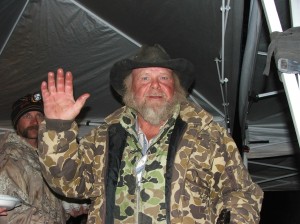 Suddenly with 200,000 plus hunters all on the mountain at the same time, killing deer like there was no tomorrow, the State of Utah decided there was enough interest in deer hunting for those who would rather hunt with a bow, or a muzzleloader to split up the deer hunt into three different seasons.  Before:  You could hunt archery and if you were unsuccessful at bagging your "buck only" deer, you could go on the rifle hunt and try your luck there.  After:  You have to decide which type of hunting weapon you wish to use and you can only hunt during that season with that weapon.
Since there were four of us who liked to hunt with the muzzleloaders, we chose to hunt that hunt.  At first we were restricted to specific areas of the state, and we hunted those areas.  And when they finally opened up the muzzleloader hunt to statewide, we began to explore different areas, even clear down to the Moab area.  Those were very fun times.  But never any more fun than the camp of old, with so very many people.  And we hunted, and camped and laughed and joked and occasionally someone would bag a deer.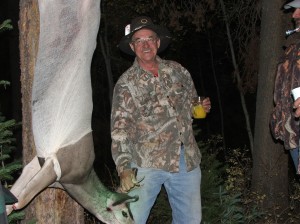 And so the word spread that the four of us were having SO much more fun than those still going on the general rifle hunt, they too began to purchase muzzleloaders and joining in our season.  Couple that with the rendezvous and the fun we were having at those events and our circle of friends grew and grew.  Our stories of the hunt from the past year gained a hearty interest in our new found friends and soon they too wanted to meet up with us at our camp.  And we welcomed them in and we had fun, and laughed and joked and occasionally would even bag a deer.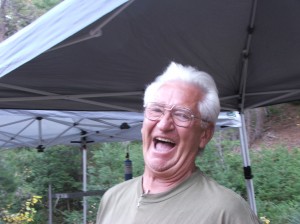 From four, to eight, to twelve, to sixteen, to twenty, to twenty six.  And still we have fun and laugh and joke and kid around with each other.  And the camp is very, very large indeed and accommodations have to be made for more trailers, campers, tents, trucks, atv's, ez-ups, common cooking facilities, etc.   And a nearly formal meeting must be held ahead of the hunt in order to make sure everyone who is going to be at the camp, knows when the bulk are leaving their home towns, who is bringing what, who is riding with whom, who is sleeping in who's camper, trailer or tent, who is bringing atv's, who is bringing parts of the camp that we only need one or two of, what the planned meals will be.  And we have fun and we laugh and joke and talk about hunts of the past.  And we joke about who will shoot just any old buck and who is going to hold out for a big monster buck.  And the meeting turns out to be a mini rendezvous.
Times have changed a great deal.  We can get from our homes to our preferred camping area in pretty much less than three hours.  We prefer to camp over rather than commute to and from the hunting area each day.  If we choose to leave camp and hunt a different area than immediately around the camp, we can do that and still be back at camp just after dark.  We have choices every day as to who we would like to hunt with that day.  Who would like to ride with who when they leave camp.  If we choose not to hunt on any given day, we can choose to sleep in and not go hunting.  Of course the camp size does not have anything to do with that choice anyway.
Our camp has gone from a "traditionally MAN only" camp (which was before my time to go), to a camp with young children, old men, women who hunt, women who are just camping, men of all ages and abilities and unwelcomed dogs.  We had no idea there were going to be dogs in camp until they arrived. Oh and by the way, the men try their best to control language and actions around the children and women, but those who bring their children and those women who choose to come into our camp are very welcome, but must understand they are going to hear and see some "man things" and that is something they must accept.  If they don't have a tolerance for that, they are welcome to go elsewhere.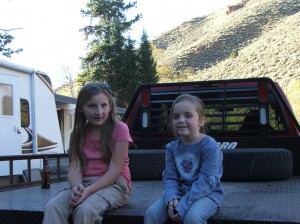 Most of us prefer to ride around the back roads of the mountains and try to spot a buck within range.  We see some very wonderful scenery,  lots of different animals from squirrels to moose, and occasionally someone in the vehicle will bag a buck.  There are many vehicles that are loaded up in the early dark hours of the morning and every one heads off in a direction the majority of the occupants think might be the best direction to get them into a buck or two.  Some prefer to hunt alone and will hike from camp.  Others will drive an atv to a point and walk from there.  All in all, if you want to go hunting and do not want to stay in camp, there is room for you and your gear in someone's vehicle.
The vehicle occupants have good conversations, eat snacks, drink their cold drinks, laugh, joke and in general have a great day in the field.  When they are back at camp, everyone in camp wants to hear their story.  And so, each person around the camp fire has a chance to tell their story of the day.  What they saw, what they shot at and anything else they want to share.  These daily stories tend to tell everyone that perhaps the majority of the bucks being seen are up the canyon from camp, or down the canyon from camp or not in this canyon at all.  Or perhaps there are bucks everywhere and if you just happened not to see one that day, well maybe you were being too noisy in your stalk.
Our desire to have a "big buck contest" can go on whether with one or two members of the camp, or every hunter in camp.  And we laugh and joke and make good times of it all.  The kill jug is shared by those who did in fact bring a buck back to camp, and for those in the contest, only one will win the money!  Just like in a camp of two people.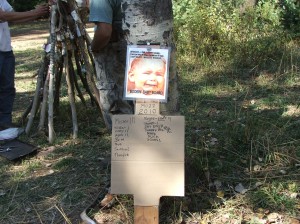 What would I change about our camp if I could impose rules?
I would like to think that everyone in the camp would share with those who drive the vehicles.  Share with the gas and oil being used.  Share driving if the vehicle owner is open to that being done.  Take turns being in the front or in the back of the vehicle, in the middle of the back seat, wherever they ride.  Mix it up.
Toss in their cooler full of drinks and daily food stuffs to share with all of those riding in that vehicle that day.
Offer up their vehicle to take the hunters around the hills.
Ride in different vehicles from day to day, so that we can better get to know each of us in camp.  It's all too easy to get into the habit of only riding in "so and sos vehicle", year after year.
Offer to be the one going into the brush to try and push out a buck instead of always being out on the open hill waiting to get the shot.
If someone decides, for instance, they would like to stay at a watering hole until dark, that someone else would offer up to share that experience with them, so they are not alone.  Of course that would have to be up to the original persons digression to accept company.  And if so allowed, the person offering to accompany them would listen to and follow the "rules" laid down by the original person.
I would like to see a group of hunters hunt in the same large draw or canyon at least once during the hunt.  By that I mean, everyone spread out either at the bottom or the top of a large expanse of pines, quakies or whatever, and hunt slowly through that canyon.  Stopping often and being as quiet as they can as they hunt.  Hunters accepting this challenge would most likely be 200 yards apart the whole time.
And lastly, I would like to see NO DOGS ALLOWED in camp.  None!  Zip!  Lap dog or Doberman!  NO DOGS!
Is our camp a special camp?  Not in the least!  We have a camp like all the millions of other camps across this nation.  Some camps have to lease the ground upon which they hunt.  They have rules that must be followed or they are asked to leave.  They have to apply for the stands or areas they have to hunt in.  They have to share in what they have and so they may only get to hunt in one particular stand on one morning or evening just once during the entire season.  They might not even with their camp lottery and not get to hunt at all during the season.   Do they enjoy each others company like we think we do?  Yes!  They have fun, make jokes, pull pranks, drink beer and whiskey, play cards and gamble and in general, have a wonderful time at deer camp, and occasionally one of them will bag a deer.
Others share what we share out here in the West…Public Ground!  We can come and go to camping and hunting areas pretty much as we please.  We will run into small and large camps, much like our own as we are traveling around looking for that buck.  Are their camps growing or shrinking?  I'd bet they are growing as well.  Are they having fun, making jokes, pulling pranks, drinking and having a good time?  Yes!  And they occasionally bag a deer.
What I am seeing with our own camp is the joining of several deer camps in one location.  And because not everyone of those camps has all the necessary luxuries to make their stay in the wilds all that comfortable, they are allowed to share with those that do have the equipment.  If I examine our camp from last year (2010), I see ten different familes all joined in the fun as one big camp.  Some of these families consist of just one member from their family.  Others share brothers from the same family.  Still others are dad and son teams.  Others again are brother and sister, husband and wife teams.  To say our camp is a large one is an understatement.  To say that we need to downsize….I say no way!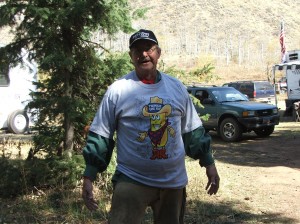 We are there for a common purpose….kill a deer…NO!  Have fun!  YES!  Enjoy each others company, share that common purpose and help each of us bag a deer while we are at it.
But, let's leave the dogs at home!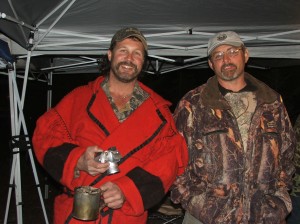 P.S.—Not you Dry Dog!  Camp is nothing without you there!
Bears Butt
Aug. 2011